Crunching the numbers – a look at my TwitterStats
I had seen tweetstats a while back, but Biz Stone recently tweeted about it again so I gave it a shot again and it is just as cool as I remember it :-). So here's my tweetstats graph and some analysis (( I could give you a URL to see it live, but the site is ridiculously slow and besides you're here for the analysis right? 😉 ))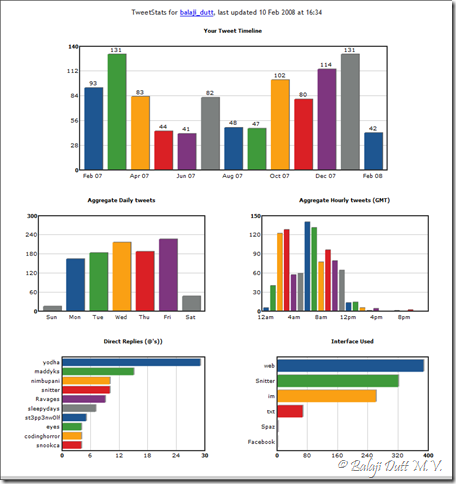 1. My tweet timeline is just about a year old now (my how time flies!) and a fairly clear pattern emerges – I manage to tweet a lot during the early part of the year (93 tweets in Feb '07, 131 in Mar '07, 131 again in Jan '08) and then as the work crunch sets in, the pace drops off pretty rapidly. Two big slumps occur over May-Jun '07 and Aug-Sep '07. The first slump was during the time I was looking for a new apartment to move into and between that and work, twittering took a back seat. Aug-Sep '07 was when I was on vacation – so between clearing the decks for the holiday, being offline while on vacation and again catching up on work afterwards, twittering was pretty much forgotten about.
2. On a daily basis, I do most of tweeting on Fridays (no big surprise there) but a close 2nd place goes to Wednesdays. No easy explanation for this except for that I probably remember that I haven't tweeted in a couple of days and try to make up. The radical slump over the weekends is because I tend to get online for only a couple of hours on weekends and that's mostly to catch up on news and post photos on Flickr. Recently I've started to read tweets by others on the site over weekends and long CNY weekend has seen me twittering quite a bit actually.
3. Time-wise I have two bursts – one early in morning (around 10-11 AM) and again after lunch (2-3 PM). Both of those are because I tend to hit my feed-reader then and so the tweets naturally follow. The rest of the time is mostly D messages and @ replies. Which neatly brings me to…
4. The replies graph. The first thing to note is that I tend to do a lot more D messaging than @ replies. That's because I got told off pretty early on by some folks who follow me, when I started using @ messages like IM 🙂 (( This back when all @ replies were sent out to people on your friends list)). But that graph is a fairly accurate representation of how my D message traffic goes.
5. Since I started off by using the site to post tweets, it still is the leader but Snitter is catching up fast and should take the top slot pretty soon. Plug for Snitter here – it is really a much better way of using Twitter and makes the site seem ridiculously clunky in comparison. Plus, Jonathan (who develops Snitter) responds to any messages you send him pretty quickly.